OFA & Barack Obama Facebook/Twitter posts |

Copywriting
Writing for somebody who influences you is a challenge, but taking up the voice of the United States' 44th President of the United was a daunting task. Organizing for Action and its various accounts, including "Barack Obama", "OFA", and "OFA Climate Team", gave me the chance to bring socially meaningful work to Facebook and Twitter.
Instagram Caption Copy |

Copywriting
Instagram is key for Howl at the Moon to stay up-to-date with its fans and announce promotions, giveaways, and more effectively. The brand's national page has over 8,000 followers and hosts new interactions every day.
Learning Labs |

Copywriter, Content Writer & SEO Analyst
Learning Labs is an EdTech platform launched by Built In in late 2021 as a way of helping tech professionals broaden their industry knowledge and fill in skill gaps on their resume. We identified eight key tech categories, cybersecurity, data science, design/UX, IT, finance, marketing, product management and software engineering, before performing keyword research to uncover an additional 125+ topic pages within each category, with subjects ranging from machine learning to Python programming, entrepreneurial finance, cryptanalysis and more.
In addition to researching and writing all topic pages from both a user and SEO perspective, I was also responsible for the UX and site copy found on page. More content and SEO details on this project can be found here. 
​​​​​​​
 merkabatx.com |

Copywriter
Merkaba launched in San Antonio in 2018, bringing a new kind of energy to the city's downtown nightlife scene. To prepare the bar for its grand opening, I prepared a branding package complete with taglines, a brand bio, a press release, several landing pages and site copy for use on their home page.
Event Planning Guidebook |

Copywriting
Every party is unique, especially when thrown at Howl at the Moon. I created this event planning guidebook for our staff to use while walking potential-customers through the types of events and customization options available at Howl. Published on every HATM locations' "Events" page.
"Blow Your Socks Off" radio spot |

Copy & Production
Whirlpool needed to get creative to make the most of its 2016 Black Friday sales and CBD Marketing promised to "blow their socks off". Fittingly, the resulting "Blow Your Socks Off" campaign was created for independent retailers and included this radio spot.

Friday Night Live @ Merkaba radio commercial & promo |

Copywriting
Friday Nights at Downtown San Antonio's hottest artisanal cocktail lounge & nightclub, Merkaba, jump to the next level when Shadia from Energy 94.1 is running the show! This :30 radio spot and :15 promo were created to hype-up the venue's fanbase and encourage newcomers to take in the experience.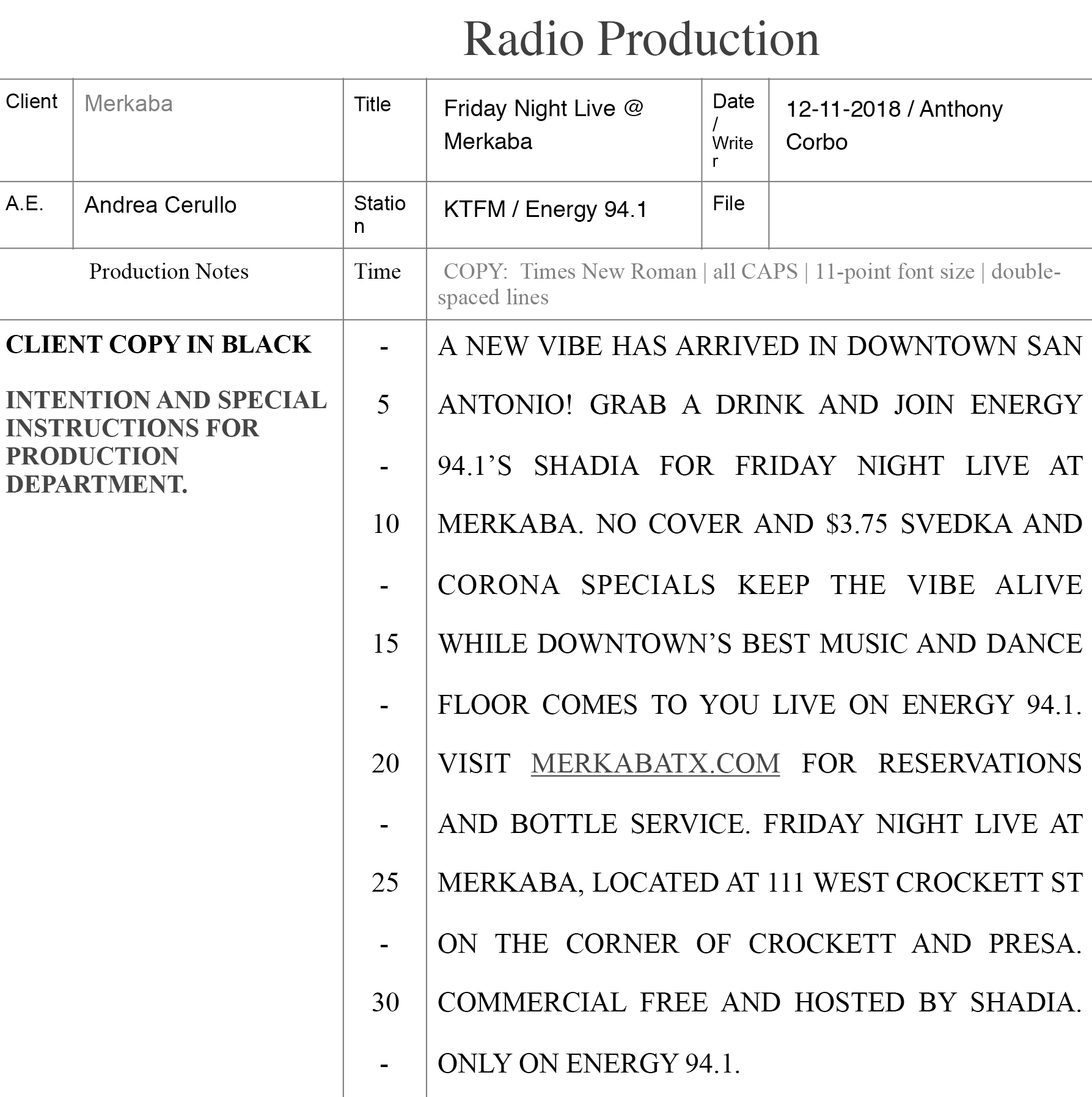 "Pink Pianos Party" Press Release |

Copywriter
Each year, Howl at the Moon and Howl | Splitsville renews its dedication to the fight against breast cancer by hosting the "Pink Pianos Party". This press release was written for Howl | Splitsville's Patriot Place location and released to local outlets in Foxborough, MA.
Grand Opening Press Release |

Copywriter
Once San Antonio's newest artisanal cocktail lounge was prepared to let all of Downtown in on its unique, stimulating experience, it was time to turn to the press. This press release was distributed to several outlets aiming to build even more excitement around Merkaba's grand opening.
​​​​​​​
Gin Print Ad |

Copywriting
MGP Ingredients is the manufacturer of the finest grain products on the market—meaning it's had a hand in just about everything you consume! I wrote this print ad as a part of the brand's campaign for its premium whiskey, vodka, and gin products.
Grand Opening Brand Package |

Copywriting
Merkaba is a brand new artisanal cocktail lounge and night club that brings a unique aura to the San Antonio River Walk. Featuring unique spirits, decor inspired by San Antonio's rich ancient history, and outstanding vibes waiting to be discovered, Merkaba provides plenty of ways to unlock your night.
Responsibilities included the brand's taglines, brand bio, press release, the creation of 

multiple

 landing pages and UX/site copy.
"The key to unlocking your night."
"Merkaba is a craft cocktail lounge and outdoor patio space. Experience drink flavors and decor inspired by Southern Mexican and Central American ancestors in an environment that satisfies your senses and unlocks your night."